We do value Your time and endeavor to make everything so that it is easy and pleasant to pay for your order. At the moment we accept following payment options: The Customers Support team of our shop will gladly answer all your questions about these kinds of payments, just call by one of phone numbers mentioned on the top! Credit Cards


We accept payments using credit cards including all major debit and credit cards like Master Card, Visa, Diners Club, AmEx, JBC, Discover, etc. You can complete the payment at the checkout, or, if something goes wrong, contact our operators to get a direct payment link.

PayPAl
PayPal is the safer, easier way to pay and get paid online. The service allows anyone to pay in any way they prefer, including through credit cards, bank accounts, PayPal Smart Connect or account balances, without sharing financial information.




Web Money
You can make a payment if you have an WebMoney account which allows using money funds in order to pay for ordered products just in a couple of minutes. An accounting system WebMoney Transfer provides account operating in a real time by means of accounting units – title signs WebMoney (WM). You can also transfer money to our Web Money accounts from Payment Terminals.



Yandex Money
Yandex Money is Russia's largest electronic payment service. If You have a Yandex Money account, You can transfer money from Your account to our account in less than a minute. You can also transfer money to our Yandex Money account from Payment Terminals.



QIWI
QIWI is a payment services provider that offers quick and secure payment either from your QIWI account, or from Payment terminals. In most cases, we see the payment in a few minutes.

International Wire Money Transfers
Wire transfers are a type of electronic funds transfer. They are usually considered the safest way to transfer funds to banks in countries overseas. In order to make a wire transfer to another country, you will need to get some information, in most cases just the name and surname from the recipient and pay a fee to your bank to process the transfer. Our company accepts all the money transfers which are served by local banks, such as Money Gram, Western Union, Ria, Unistream, Zolotaya Korona, Anelik, Contact and more.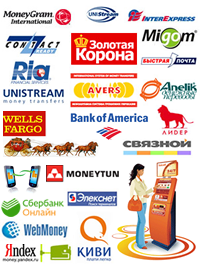 Bank Transfer
You can pay for your order from any commercial bank transferring the money. This is mainly for legal and physical entities by money transfer from your account to the account of our company. If you chose this method of payment please note that international transfers may take 2-5 banking days. The amount of your payment should be equal to the total price of your order. Once the payment is completed please send us the check via fax or email in order to avoid delays. You will get a confirmation of money receipt at our operating account. After the money is credited to our account, your order will be fulfilled.
Wells Fargo Transfer
You can transfer money to our Wells Fargo Bank US account online, from Your Wells Fargo Bank account, without leaving home. Also, You can transfer money from the bank.
Bank of America Transfer
You can transfer money to our Bank of America US account online, from Your Bank of America account, without leaving home. Also, You can transfer money from the bank.