Up to -25% Sale, Today's Offers, Seasonal Flowers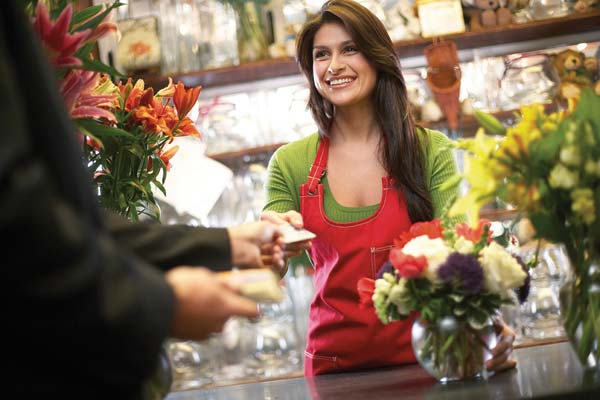 Flowers delivery in Barcelona was never ever so easy and convenient!
Send flowers to Barcelona now with up to -25% discounted price, and don't miss seasonal hot offers with low prices ordering online or by phone, Viber, Whatsup.
Our main privileges are: 24/7 Customer Support, express delivery in Barcelona and +80km far away destinations within 1-4 hours, order photos upon request, 100% satisfaction guarantee, local shop with professional florists. Same day deliveries, holiday deliveries and weekend deliveries are free of charge.
Hurry to present a pleasant surprise to Your close people paying for that even less money. You can make use of this special discount till the end of season!
120 cm

60 cm

€ 23

€ 20

You Save: 15.00% (YBN-2457)

22 cm

15 cm

€ 40

€ 30

You Save: 25.00% (YCBK-4434)

15 cm

17 cm

€ 51

€ 38

You Save: 25.00% (YBT-3752)

30 cm

25 cm

€ 67

€ 50

You Save: 25.00% (YPC-3810)

45 cm

25 cm

€ 60

€ 51

You Save: 15.00% (YBT-309)

70 cm

30 cm

€ 58

€ 52

You Save: 10.00% (YKR-2477)

45 cm

25 cm

€ 57

€ 54

You Save: 5.00% (YST-1483)

35 cm

30 cm

€ 62

€ 56

You Save: 10.00% (YBT-1706)

30 cm

22 cm

€ 68

€ 58

You Save: 15.00% (YPC-2794)

35 cm

25 cm

€ 68

€ 61

You Save: 10.00% (YBT-2067)

50 cm

30 cm

€ 70

€ 63

You Save: 10.00% (YMR-3295)

40 cm

27 cm

€ 86

€ 69

You Save: 20.00% (YPC-4728)

10 cm

25 cm

€ 74

€ 69

You Save: 7.00% (YSCE-4565)

60 cm

30 cm

€ 81

€ 73

You Save: 10.00% (YPR-2000)

50 cm

45 cm

€ 93

€ 79

You Save: 15.00% (YBL-2778)

45 cm

30 cm

€ 86

€ 82

You Save: 5.00% (YBL-4949)

60 cm

30 cm

€ 97

€ 82

You Save: 15.00% (YPR-3153)

45 cm

45 cm

€ 88

€ 84

You Save: 5.00% (YBG-3472)

35 cm

45 cm

€ 92

€ 86

You Save: 7.00% (YMED-4922)

60 cm

40 cm

€ 107

€ 86

You Save: 20.00% (YBP-2050)

28 cm

12 cm

€ 98

€ 88

You Save: 10.00% (YTR-4915)

40 cm

30 cm

€ 107

€ 91

You Save: 15.00% (YPC-4445)

40 cm

30 cm

€ 108

€ 92

You Save: 15.00% (YPC-4446)

45 cm

25 cm

€ 102

€ 92

You Save: 10.00% (YBT-241)

50 cm

35 cm

€ 102

€ 92

You Save: 10.00% (YBL-4952)

45 cm

30 cm

€ 109

€ 93

You Save: 15.00% (YPC-4945)

45 cm

35 cm

€ 110

€ 94

You Save: 15.00% (YBK-771)

40 cm

27 cm

€ 111

€ 94

You Save: 15.00% (YMR-3561)

55 cm

30 cm

€ 102

€ 95

You Save: 7.00% (YKR-2805)

55 cm

€ 109

€ 98

You Save: 10.00% (YBG-3588)

60 cm

35 cm

€ 112

€ 99

You Save: 12.00% (YPR-2764)

55 cm

25 cm

€ 111

€ 100

You Save: 10.00% (YBJ-1519)

28 cm

12 cm

€ 110

€ 102

You Save: 7.00% (YER-4917)

30 cm

45 cm

€ 109

€ 104

You Save: 5.00% (YFK-4382)

50 cm

35 cm

€ 148

€ 111

You Save: 25.00% (YBL-4727)

35 cm

25 cm

€ 148

€ 111

You Save: 25.00% (YPC-1265)

30 cm

25 cm

€ 150

€ 113

You Save: 25.00% (YPC-4688)

55 cm

35 cm

€ 168

€ 126

You Save: 25.00% (YBP-3449)

25 cm

30 cm

€ 162

€ 130

You Save: 20.00% (YBT-373)

30 cm

27 cm

€ 168

€ 134

You Save: 20.00% (YPC-4744)

30 cm

25 cm

€ 168

€ 134

You Save: 20.00% (YPC-4686)

45 cm

60 cm

€ 165

€ 149

You Save: 10.00% (YPC-4947)

45 cm

45 cm

€ 199

€ 149

You Save: 25.00% (YTR-1184)

50 cm

45 cm

€ 199

€ 149

You Save: 25.00% (YBP-18)

50 cm

35 cm

€ 177

€ 150

You Save: 15.00% (YBZ-1887)

45 cm

25 cm

€ 162

€ 151

You Save: 7.00% (YBT-422)

60 cm

35 cm

€ 178

€ 151

You Save: 15.00% (YMR-715)

45 cm

35 cm

€ 163

€ 152

You Save: 7.00% (YFK-4904)

40 cm

30 cm

€ 164

€ 159

You Save: 3.00% (YBT-2521)

12 cm

60 cm

€ 189

€ 161

You Save: 15.00% (YPC-4112)

45 cm

35 cm

€ 191

€ 162

You Save: 15.00% (YPC-4457)

30 cm

40 cm

€ 224

€ 168

You Save: 25.00% (YPC-4138)

115 cm

55 cm

€ 224

€ 168

You Save: 25.00% (YBP-4714)

120 cm

120 cm

€ 177

€ 168

You Save: 5.00% (YBG-3592)

50 cm

35 cm

€ 198

€ 168

You Save: 15.00% (YPR-1854)

35 cm

45 cm

€ 189

€ 170

You Save: 10.00% (YTP-3098)

40 cm

30 cm

€ 219

€ 175

You Save: 20.00% (YPC-4025)

45 cm

40 cm

€ 223

€ 178

You Save: 20.00% (YBM-4001)

35 cm

25 cm

€ 205

€ 180

You Save: 12.00% (YPC-4678)

55 cm

35 cm

€ 203

€ 197

You Save: 3.00% (YMR-3624)

12 cm

40 cm

€ 268

€ 201

You Save: 25.00% (YBZK-720)

35 cm

50 cm

€ 227

€ 204

You Save: 10.00% (YMR-1358)

70 cm

35 cm

€ 211

€ 205

You Save: 3.00% (YMR-3097)

30 cm

45 cm

€ 229

€ 206

You Save: 10.00% (YPC-4692)

70 cm

60 cm

€ 224

€ 208

You Save: 7.00% (YLS-4943)

60 cm

45 cm

€ 242

€ 213

You Save: 12.00% (YKR-2772)

12 cm

€ 294

€ 221

You Save: 25.00% (YTR-162)

50 cm

30 cm

€ 228

€ 221

You Save: 3.00% (YTR-3252)

60 cm

40 cm

€ 254

€ 224

You Save: 12.00% (YBP-4298)

12 cm

50 cm

€ 324

€ 227

You Save: 30.00% (YMR-139)

50 cm

35 cm

€ 271

€ 230

You Save: 15.00% (YBJ-1136)

50 cm

40 cm

€ 302

€ 242

You Save: 20.00% (YMR-4801)

60 cm

45 cm

€ 287

€ 253

You Save: 12.00% (YPR-1756)

40 cm

30 cm

€ 284

€ 256

You Save: 10.00% (YPC-4668)

60 cm

45 cm

€ 283

€ 263

You Save: 7.00% (YTR-439)

60 cm

50 cm

€ 284

€ 264

You Save: 7.00% (YTR-1627)

45 cm

45 cm

€ 295

€ 266

You Save: 10.00% (YBT-1797)

60 cm

50 cm

€ 294

€ 273

You Save: 7.00% (YMR-4942)

20 cm

€ 351

€ 281

You Save: 20.00% (YTR-451)

30 cm

50 cm

€ 354

€ 283

You Save: 20.00% (YKR-4701)

45 cm

50 cm

€ 341

€ 290

You Save: 15.00% (YBE-2517)

60 cm

50 cm

€ 315

€ 293

You Save: 7.00% (YKR-2100)

70 cm

40 cm

€ 327

€ 311

You Save: 5.00% (YKR-2141)